Dean's Profile and Message
Profile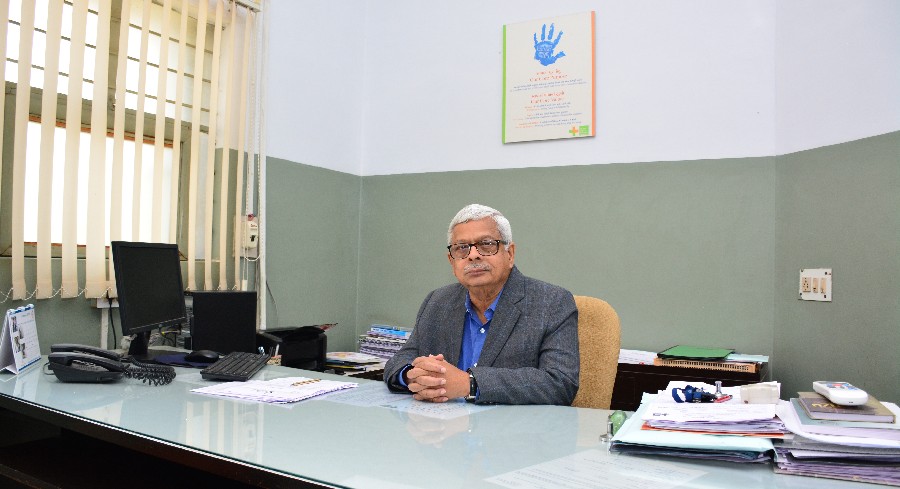 Dr. Himanshu Pandya, MBBS, MD (Medicine), PGDHPE is an alumnus of NHL Municipal Medical College, Ahmedabad, and a fellow of CMCL-FAIMER (2007-08). He has been associated with Pramukhswami Medical College since 1987.
As Past President of the Academy of Health Professions Education – India (2018) and former convener (2010-16) of the Medical Council of India Nodal Center for National Faculty Development Program at Pramukhswami Medical College, Dr. Pandya has contributed significantly to medical education at the national level.
He has been a national consultant for the MCI Advance Course in Medical Education and a member of the expert group for the MCI Basic Course in Medical Education. He is also a national faculty for NCHPE, GSMC-FAIMER Regional Institute, and the MAHE-FAIMER International Institute for Leadership in Inter-professional Education. His areas of interest are faculty development and medical professionalism.
Message
These are unparalleled times. The COVID-19 pandemic has led to an inevitable focus on the care of patients and society. It has disrupted medical education with the need for heightened and expeditious attention from medical educators. The need to prepare future physicians has never been as urgent as in the present crisis. The present pandemic nonetheless may permanently change how future physicians are educated. It presents some tough challenges in deciding strategies for the deployment of staff and placement of students in the clinical settings in view of the need for physical distancing and personal protective equipment.
The Medical Council of India introduced competency-based medical education for the MBBS program in the academic year 2019-20. Competency-based learning includes designing and implementing medical education curriculum that focuses on desired and observable abilities in real-life situations. This requires the physical presence of students in various clinical settings during the first year as part of early clinical exposure and later years as learner doctors with participation in patient care tasks under supervision.
Physical distancing required during the COVID-19 pandemic hinders the gathering of students in classroom and clinical settings. Whereas medical educators have already transitioned from the classroom to online platforms as a tool of pedagogy for conceptual understanding, it will be a challenge for them to provide experiences of authentic clinical settings under these circumstances. It is an adaptive challenge that will require experiments and adjustments from various places in the healthcare organization. Without learning new ways of doing things – changes in attitudes, values, and behaviors – people cannot make the adaptive upswing necessary for flourishing in the new environment.
In order to brainstorm strategies to handle the challenges of patient care and medical education during the COVID-19 pandemic, Bhaikaka University has created task forces led by senior medical faculty. The recommendations of task forces will guide the workflow and deployment of staff and students in various clinical settings.